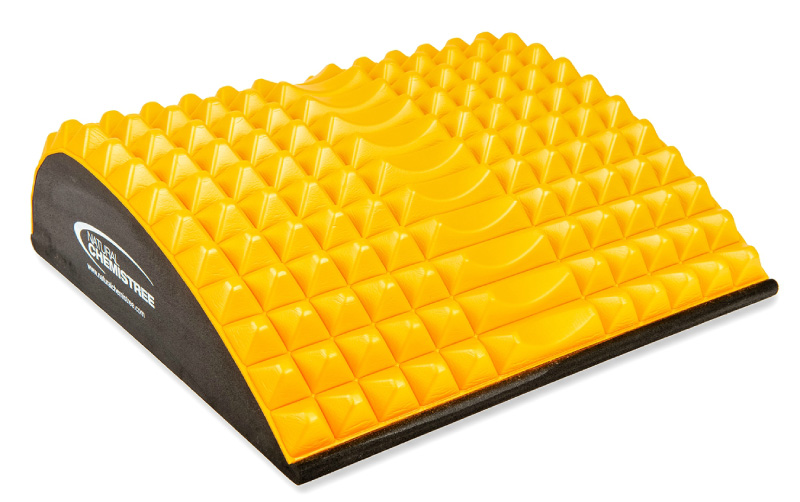 Back Stretcher Device for Chronic Lower Back Pain
No need for costly pain pills. 5-10 minutes of daily lumbar stretch exercise provides relief and improves posture
Arch supports the spine and relieves pain associated with sciatica, stenosis, herniated disc
60-day satisfaction guarantee or your money back. Buy now RISK FREE
Acupressure nubs massage your back more effectively than massage pillows, mats, chair and roller
Portable and travel size. Stretcher can be used at home, office, work and on holiday
Product Description
Low-back pain? You're not alone. In today's world of desk jobs and daily stress, it's an all-too-common complaint. But that doesn't mean there's nothing you can do. In fact, sometimes the simplest solution is the best. Gentle stretching with a device for spinal alignment that along a natural curve can provide soothing relief for stiff, sore muscles. That, combined with the massaging texture, will leave you feeling refreshed and ready to face another day without having to visit the chiropractor and receiving chiropractic treatment. Not only that, but this handy back stretcher does double duty. The textured nubs are perfect for massaging tired feet and legs, too. Plus, it's compact and portable enough to take along anywhere.
Natural curve matches the shape of your spine, and is more effective than lumbar rollers, massage chairs, massage mats, shiatsu massagers, golf balls or tennis balls at stretching and massaging your back.
Helps provide relief from upper and low back pain related conditions such as degenerative disc disease, stenosis, herniated disc, scoliosis, fibromyalgia
Textured spikes offer deep-tissue massage. • Portable and easy to use. • Safer than pain pills or muscle relaxers for pain management.
Soothes sore, tired muscles.
We insist on the highest quality materials and manufacturing processes to bring you this superior back stretcher. We confidently offer a 1 Year Money Back Guarantee for your peace of mind. In the unlikely event that our product does not meet your expectations, return it for a 100% refund of your purchase price. No questions asked.
Top Customer Reviews
By Venugopal Surendran on January 20, 2016
I have tried a few back stretchers before. So far, this seems to be the best. A bit on the expensive side – but worth it. The product is compact and light weight. I do feel relief from back soreness. The material is not hard plastic unlike the ones I had tried before. I had stopped using the earlier ones. I plan to use this stretcher regularly. Hope it lasts.
By cm on October 23, 2016
I wanted to use this for a few weeks before posting a review. I've had back pain for years, which lead to butt and leg tingling on the left for years and then the past three years severe right shin pain/burning. I'm not so sure that using this to stretch my spine helps as much as the sand filled 3 lbs weighted balls I was using. I would place two at the small of my back at night and it gave a good little stretch that relieved the shin pain. What I like about THIS wedge is that it came with an instruction/tip sheet. The Back Stretcher when placed under the abs, is great for helping me to raise up using my arms (up dog in yoga). And the side stretch and thigh stretch routine on the little exercise sheet are great stretches for me as well. I would recommend this device for anyone with back pain and advise to be creative. Good luck finding postures and techniques that help relieve your pain and assist with your mobility.
By Pegg on September 21, 2016
I love this! My back gets very tight because I am on my feet all day. This helps stretch it out. I've had a couple of Back Magic items in the past and they always break. This item will not break and that's why I bought it. It's sturdy and solid. I love the nubs and the massage they give. Sometimes my back won't make the arch that this has, so I put a pillow or rolled towel behind my head and it works perfectly. Thanks for a great product that won't break!!!